Small Size Silver Rings
Need rings for small fingers? We've got you covered!

Find your small size ring: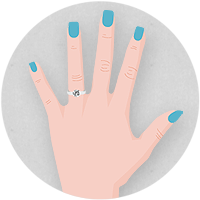 Not sure about your ring size? Check our Ring Size Guide
You may not know that yet, but we at Harry Fay Boutique create our beautiful rings for all shapes and sizes! For us, there isn't such a thing as "one-size-fit-all", so we are doing our best to make sure the ring you purchase is in your own perfect size! A good fit is a must, no matter what occasion it is for – wedding outfit, party, everyday wear, nice evening with your family and friends or any special event, not to mention the big day like engagement!
Probably the most common women's ring size is L or M and anything below that may be consider as a small size. Our rings are made from a size G to Z+4 including half sizes as well, so if you have tiny fingers you can find a ring that fits your small hand! Our smallest ring size G (3½ in America and Canada) is such a petite size it can be worn by teenagers as well as adults who have tiny hands!
Our rings can be easily filtered by Size - when you go to our 'Rings' page, choose your size and narrow down your search by size – as simple as it is. Now you can find your perfect fit.
Because we have rings ranging up to a size Z+4, it means that if you want a plus size ring, you can find a perfect one for yourself as well. We simply love all the sizes!
And remember! If you see a ring you love, but you need it in a smaller size than G, please contact us directly and we will see if we can resize it for you!
Oh go on, have a little look and treat yourself with a ring in your own small size!
Please see examples of our small size rings: