Jewellery During Pregnancy

You are carrying a new child and your body changes and adapts. This is a beautiful time for you and we want it to stay like this, so please have a look on the information below to make sure your jewellery, especially rings, are safe for you and your baby.
Your ring size will change!
It is very likely that during pregnancy your ring size will temporarily change. For most women the change becomes visible around 20th week, for some near 30th with just few not observing any changes at all. This is normal and your fingers will come back to the old size soon after the birth.
The most important rule is: take your rings off as soon as they start becoming tight. Otherwise they may get stuck on the swollen finger causing a lot of pain. It may be necessary to cut the ring in order to take it off.
Should your ring get stuck, please have a look on our blog post here.
The really good news is that since you need a new ring, you can get one that you really fancy! Or even two and your man will be happy about it - he will be happy when you are :)
Frequently Asked Questions
When should I stop wearing my ring?
You should stop wearing your current ring when it is getting uncomfortably tight. But it doesn't mean you can be wearing another one.
What is a replacement ring?
Replacement ring or a substitute ring is a ring that you wear instead of your wedding or engagement ring. You may want to do it for many reasons: when your ring size changes or to keep the precious one safe during intensive times.
Do we really need to destroy my wedding ring?
Well, only if you keep wearing it after it is too small. When you wear a very tight ring and your body gets swollen (for example due to weather or exertion) you may need to cut the ring to save your finger.
How do I know my ring size?
Not sure about your ring size? Check our Ring Size Guide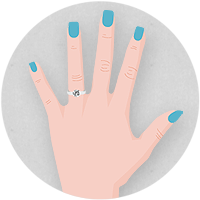 Choose a Right size for a new ring
Select a ring that will fit you well to the last minutes – you want to think about too tight ring just before the birth! Factor following into the decision:
The sooner your ring becomes tight, the more spare size you should get. If you feel a change in your size during 20th week, then grab at least two size bigger – for example: M to O or Q½ to S½.
If you are going to give birth in the summer then add additional half size. During worm days the fingers become bigger especially during bigger efforts
Allergies during pregnancy
Some jewellery may cause allergic reactions, which you want to avoid especially during pregnancy. Make sure to buy a hypoallergenic jewellery. (Yes, all our rings are hypoallergenic!).
Buying a new ring during pregnancy
In this time of life you deserve the best, so buying a new ring is quite a good idea. We suggest getting a silver ring – it will be gentle on your budget and if your finger size change a lot it won't be a problem – you can keep the ring as a memento and avoid guilt of having something too expensive laying in the bottom of your drawer. And if you can wear it after the birth, then you already have a precious ring! It's a win-win situation!
Wedding and Engagement rings during pregnancy
Wedding and Engagement rings are most precious and keeping them safe is a must. For the weeks when you cannot wear them we suggest wearing another ring and keep the real one in a safe place or to wear it on a chain as a necklace.
Many women we talked to told us that they want to keep a ring on their finger, so we suggest buying yourself a new, inexpensive one. This way you can still display your ring and you will have a memento of you pregnancy. You can continue wearing the ring or keep it forever as a birth souvenir.
Last but not least – having a replacement ring you won't have to take your real wedding and engagement ring to the hospital, so you won't have to keep an eye on it. This will give you a peace of mind when you need it most.
Resizing your Rings
One option to keep your current ring during pregnancy is to resize them. This may be a good solution in many situations, but consider following aspects:
After your child is born your fingers will become smaller again. If you have resized your rings you may need to do it again!
The ring can be destroyed when resized. Most of the rings can be resized few times, but some will break after more than two attempts – depending on their shape.
The stones are the most vulnerable part of the ring and the setting may be impacted, so there's a risk of losing your stone.
Resizing the ring properly may be expensive.

Our advice is to resize the ring only when you want to make the permanent change and do it with a trusted jeweller.
Please see examples of our rings:
Shop Harry Fay's silver ring collection here